The process of purchasing and remodeling the flooring in your home or even a single room is a very exciting and rewarding experience, This process can also be a significant investment in time and money. That being said, it is an investment and when complete, one that will add value to your home, beauty to your surroundings and comfort to your family.
Tile has built a reputation of being a reliable option for the most popular areas in any home. There are tile options that hold up really well against moisture and other options that hold up against heavy traffic. The customization options are endless and can be blended seamlessly with matching wall tiles or backsplash.
Whether you opt for porcelain, ceramic or natural stone, there are different levels of care and upkeep required to maintain its beauty and strength that will factor into the final cost.
The Cost Variables
As with every article that tries to explain how much you'll end up paying for something:
The final cost doesn't stop at how much you'll be spending on the product itself! There are plenty of other variables to consider before making a final decision based on product averages, and there could be unforeseen problems with installation.

The Product and The Price
The most popular types of tile you will find are porcelain and ceramic tiles that usually average $2 to $8 per square foot.
Meanwhile, natural stone tiles tend to sit in a $12 per square foot range and only goes up from there.
Thicker tiles are considered more durable but the thicker the tile, the more expensive it will be for the material.
If you chose a tile that has the color through the whole tile, a color-body, as opposed to the color just being on the surface, it will add more to the final cost.
Tile Installation Materials
There are specific materials that you will need to prepare the sub-floor and make sure the tile is secured.
However, it would be incorrect on my part to give you a set price for all of the necessary materials. It truly depends on your situation and what the installation calls for.
We highly recommend that installers consult any buyer to survey the home and plan ahead. During this time they can scope out any possible obstacles that may impede progress during installation. At this point, they would notify you of any extra work that may add to the final cost.
Your floor might require specific materials that differ from the ones that I have listed. Be sure to consult the experts at your local retailer to explain your situation to get a better sense of the materials required for your project and get a better sense of your final cost.
Common Materials used to Install Tile Are
Plywood or Cement Underlayment - There are multiple options to use for a sub-floor, but plywood is a safe, popular choice.
Ditra Underlayment - Ditra is a thin, polyethylene sheet that provides uncoupling to prevent any sort of cracks or movement of the tiles and grout. It also acts as a great waterproof barrier to protect the sub-floor.
Thin-Set - A thin cement mixture that secures the tiles to whatever is underneath.
Tiles and Grout - The best part of it all! Whether you choose porcelain, ceramic or natural stone, it is common to use grout to line each tile. Grout comes in many different styles so that you can pair the color with your tile!
Cost of Installation
Let's separate tile into two categories: floors and walls.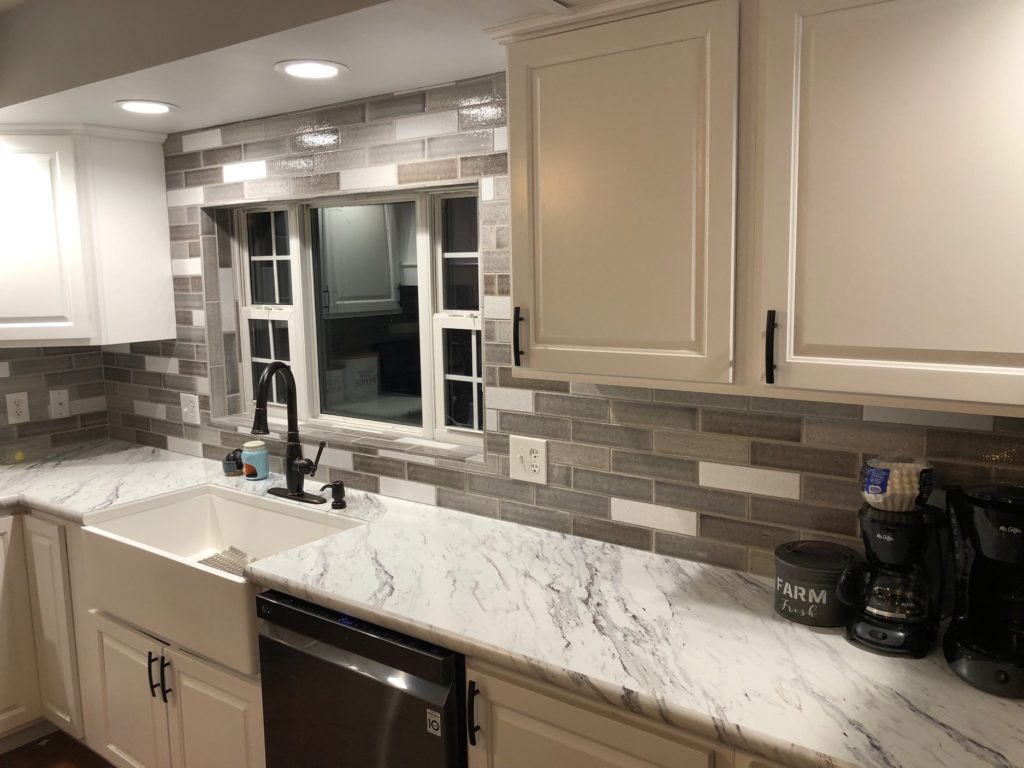 Walls are automatically more difficult, and therefore more expensive per square foot, to install. On average, you can expect to pay $11 per foot for installation of wall tiles.
If you are installing tile on a wall, whether it be in the bathroom or as a backsplash in the kitchen, you are working against gravity.
What's more, if you are installing backsplash or intricate designs on a wall, those tiny little pieces have to be cut to those specifications. Labor doubles if you decide to grout the tile on the wall as the installer has to grout each individual space.
Wall tiles, whether it be backsplash or some other design, take more time, preparation, labor and possibly more materials to install making them likely to make up a large portion of the final cost.
But, oh so worth it!
Next, Floor Tiles
Which average $7 per square foot to install.
Tile, although durable, requires a delicate hand and patience to install properly. The cost is also affected by how intricate you want the floor to be. You can make it as lavish as you want it with mosaics and different styles of tile all on one floor.
Tile also requires a perfectly level sub-floor. If the sub-floor is uneven when the tile is installed, it could end up damaging the material later down the line.
Therefore, they need to prepare the sub-floor and make sure it is perfect for installation which, if it isn't, will add to the final cost.
All in all, you can expect the same theme across wall tiles and floor tiles: The more intricate the design = The more time it takes = the more labor required = The more it will cost.
Whether you are remodeling your entire floor with tile or just installing that backsplash you've always wanted in your kitchen, you can get a rough estimate on how much you will end up paying in total.
However, there is always the possibility of unforeseen circumstances showing up that might require more time and labor to get the job done correctly.
One of the most common factors to be overlooked is the cost of maintenance. Be sure to consult the professionals and manufacturer warranties to understand how much you should set aside to ensure your floor is protected for its entire lifespan.
The best way to avoid these unforeseen costs is communicating with your local experts to get a better idea of the scope of your project! Ask all of the questions, mention all of the details, and share as much information about your needs for your floor so that you could get a more accurate idea of the final cost.
For further information, reach out to one of our stores or continue reading the related articles below!
How to Choose Laminate Flooring: A Buyer's Guide:
https://www.familyhandyman.com/floor/wood-floor-installation/how-to-choose-laminate-flooring-a-buyers-guide/
Everything You Need to Know About Laminate Flooring
https://carpettogo.com/2017/11/everything-you-need-to-know-about-laminate-flooring/